The best gaming apps for your iOS device this month
Below, we run through the ten best new iPhone, iPad, and iPod Touch games released within the past month. All titles are playable on all iOS devices unless otherwise indicated.
Buy from Apple1. Papa Sangre II
93
Action-Adventure, $4.99, ages 12+, from Playground Publishing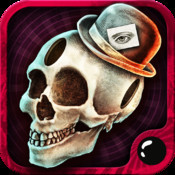 "It's hard to really express through words or through visuals what Papa Sangre II does with the manipulation of sound, but believe me when I say that it is unbelievably unique, and just all sorts of incredible."
Sean Bean (Game of Thrones) is your guide for this unique audio-only survival horror game, an even better sequel to 2010's Papa Sangre.
From the Publisher: There is no App Store, there is no iPhone and there is no game called Papa Sangre. They are all lies. Do not trust your eyes, they deceive you. To get back to the other side you must follow your instincts and fight for your life. Papa Sangre II is a survival horror game told entirely through sound. It starts at your inevitable end. You are dead, and must hunt for memories from the deceased to get back to the other side. Trapped in the peculiar afterlife of Papa Sangre, your guide is the voice of Sean Bean (Lord of the Rings, Game of Thrones). Death for you is just the beginning. Key features: * An innovative and truly immersive "audio only" survival horror game. * Starring the voice of Sean Bean (Game of Thrones, Lord of the Rings) * Explore the all-new world of Papa Sangre II and enter his Museum of Memories * 18 levels of cinema-quality 3D sound design – you won't believe your ears * Fully accessible and simple to use interface * Powered by the most immersive and impressive graphics technology you'll ever experience: your mind * You will be running from monsters, avoiding traps and shooting ducks. All guided by audio only.
Buy from Apple2. Sorcery! 2
88
Adventure/RPG, $4.99, ages 12+, from inkle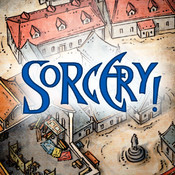 "Building upon the success of its predecessor, Sorcery! 2 is a gripping and well told story of intrigue and adventure, amongst some great game features."
Playing part 1 is not a prerequisite to enjoying this second adaptation of Steve Jackson's fantasy gamebook series.
From the Publisher: An epic adventure in a city of thieves, traps, and magic. Kharé is brimming with things to do and creatures to meet. Visit the Festival of Thieves, battle a ghost, escape from slavers, gamble your fortune at the Halls of Vlada, drink at the tavern, worship strange Gods, and much much more. Will you uncover the secrets of the city, overthrow the Council, destroy an invading army, or leave Kharé to burn? From legendary designer Steve Jackson, co-founder of Lionhead Studios (with Peter Molyneux), and Fighting Fantasy and Games Workshop (with Ian Livingstone); and inkle. The app uses inklewriter technology to tell your journey in real-time, shaping the story around your choices. The text itself changes based on how you play and what you do. In combat, the action is description on the fly based on how you play.
Buy from Apple3. Anomaly 2
86
Strategy, $4.99, ages 9+, from Chillingo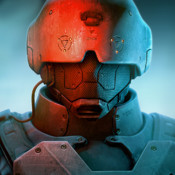 "Easily one of the best mobile games I've played this year, Anomaly 2 is a tour de force of impressive visuals and exciting gameplay that raises the bar for mobile strategy games. It's a refreshing take on a genre that clearly has some new ideas left in it."
This sequel to the acclaimed Anomaly: Warzone Earth is a visually rich, "tower offense"-style tactical challenge with a sci-fi storyline.
From the Publisher: TAKE BACK THE EARTH Lead the Yukon convoy across a post-apocalyptic wasteland to fight for mankind's survival against the alien machines in an epic single player campaign. Use over one million tactical combinations including troops that morph into game-changing war mechs to overcome the enemy's gauntlet. CHALLENGE THE WORLD IN ONLINE MULTIPLAYER Connect with friends via Game Center and wage epic battles of tower defense vs. tower offense. Play as the towers and destroy the humans or lead the humans to annihilate the alien towers. CUTTING EDGE TECHNOLOGY Anomaly 2's new engine delivers exceptional presentation in the palm of your hand. Jaw-dropping scale, incredible visual detail and phenomenal special effects - this is unlike anything you've seen running on a mobile device before! Game Features: • The highly anticipated sequel to awarding-winning Anomaly: Warzone Earth and Anomaly Korea • A massive story-driven campaign with alternate endings to uncover • Multiple ways to play with over one million tactical combinations and transforming troops • Online multiplayer — tower defense vs. tower offense across five maps • Jaw-dropping visuals and presentation powered by Anomaly 2's new engine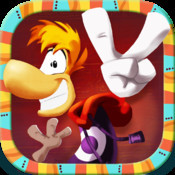 "One of the most extensive runners out there, drizzled with beautiful graphics, wonderful level design, and a variety of familiar characters and extras to unlock."

—IGN
Another auto-runner, the latest Rayman mobile title is a sequel to Rayman Jungle Run.
From the Publisher: Join legendary platforming hero Rayman for a new adventure on your favorite mobile device! If you enjoyed Rayman Jungle Run, winner of the App Store's BEST of 2012, you will love Rayman Fiesta Run and its new wacky Fiesta world! Lunge for cocktail umbrellas, leap on limes and punch those piñatas…the sky's the limit! PARTY ALL NIGHT LONG * More than 75 levels welcome you for the Fiesta! * Bounce on sausages and make your way through 4 new festive worlds * Beat all 3 new epic bosses to reach the dreaded Land of the Livid Dead Island! * Collect Lums to get awesome rewards and power-ups DISCOVER RAYMAN'S AMAZING NEW POWERS * Rayman could jump, fly, punch and run up the walls… * …he can now slide, swim or shrink on the fly into a tiny hero * Unleash the power of the Super Punch! BEWARE OF THE INVASION! * Play all the levels you thought you knew in a totally different way * Avoid new traps and defeat even fiercer enemies * Get ready for more great challenges!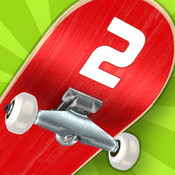 "A brilliant skate sim with a surprising depth, Touchgrind Skate 2 is well worth the time and effort it takes to master."
This skateboarding sim features 3D graphics and realistic physics.
From the Publisher: Skate like a pro in the most realistic multi-touch skateboarding game ever! Just like in real skateboarding or fingerboarding, Touchgrind Skate 2 is a game of skill that takes 10 minutes to understand but a lifetime to master. Learn the tricks, complete challenges, and unlock new skateboard parts. Get the highest score in time-limited Competition mode, rip freely and complete challenges in Jam Session mode, challenge your friends in the turn-based multiplayer Game of S.K.A.T.E or export video clips and show off your best lines. The innovative finger controls together with real physics simulation let you pull off tricks like ollies, pop shuvits, kickflips, heelflips, impossibles, powerslides, lip tricks, stalls, drops, 5-0's, 50-50's, crooks, tailslides, bluntslides, darkslides etc in endless combinations, or why not do them in nollie, fakie or switch? - Only your skill and imagination set the limit! Get a maximized experience with a real skateboarding feeling - Skate like in real life on your iOS device!
Buy from Apple6. Stellar Wars
85
Action/Strategy, $0.99, ages 9+, from Liv Games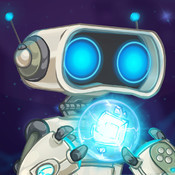 "Stellar Wars delivers a deluxe wide-ranging gaming experience that is a should buy for some engaging strategy."
This sci-fi title from the makers of Legendary Wars combines a number of gaming genres—including shooter, strategy, and sim—but replaces that earlier game's fantasy setting with a storyline involving robots, aliens, and a galactic war.
From the Publisher: Join the last remaining robots on a quest to rebuild a lost civilization in a mysterious new solar system. Things quickly change when the bots find themselves in the middle of a war for the future of the Galaxy. Take to the skies in your Stellar Fighter! Build a large cast of customizable robots and take on hordes of aliens in a unique blend of Strategy Defense and Sidescrolling Space Ship Shooter. The fate of the Galaxy is in your hands! Amazing Variety of gameplay all seamlessly integrated into one stellar story line. Game types Include: Space Shooting, Planetary Defense, Hover Boarding, Arcade Action, Runner, Hack and Smash and lots more!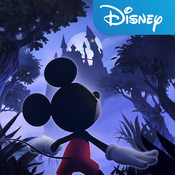 "A very pleasant surprise. It's not perfect, but it comes close enough, and may even be a little better than its console brethren in some regards. "
The Sega Genesis classic comes to iOS (as it already has to consoles) in this HD remake/reinterpretation that features 2.5D platforming action.
From the Publisher: Mickey Mouse returns to star in Castle of Illusion, a fantastical reimagining of the Sega Genesis classic. When the evil witch Mizrabel kidnaps Minnie, it's up to Mickey to brave the dangers of the Castle of Illusions to rescue Minnie. Gather your courage and traverse enchanted forests, take on hordes of rebellious toys and navigate mazes of living books. Play as Mickey and save Minnie from Mizrabel's evil clutches! -Play as Mickey Mouse in this reimagining of the classic Sega Genesis/Mega Drive game! -Experience a world of wonder, brought to life with all-new graphics and magical adventures! -Journey across five magical worlds filled with Mizrabel's powerful minions! -Complete hidden challenges to customize Mickey with classic costumes!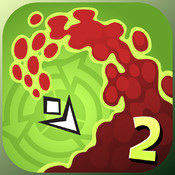 "While the core of Tilt to Live 2: Redonkulous remains unchanged from the original, the sequel refines the formula to rekindle the addiction all over again."
The tilt-action hit gets a sequel that features similar mechanics and more arcade-style fun.
From the Publisher: Return to a world of fast-paced, tilt-only arcade action! You'll flee a relentless onslaught of dastardly dots, desperately darting between single-use weapon orbs. Each orb provides a unique burst of fiery relief! Sometimes it's lasery relief. It really depends. Features: • Two gametypes: Classic Mode (normal difficulty) and Code Red (too hard) • A brand new weapon arsenal! Can you unlock them all? • A new scoring system, powered by tricks you can do with weapons or your arrow • Diabolical boss encounters • Flaunt your highscore on your Game Center friends' game over screens! Or be ashamed of it. • Tons of Game Center achievements, many of which include jokes and humors • Instantly send score challenges to your Game Center friends, right from the game over screen!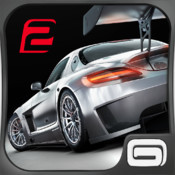 "While it doesn't stray far from genre conventions, GT Racing 2 is competently executed and fun to play. There may be higher-profile racers on iOS, but few that nail the controls and upgrades quite as squarely as this does."
This racing sim features over 60 licensed vehicles and over a dozen real-world tracks (though many of the cars come only with time/experience or in-app purchases).
From the Publisher: GT Racing 2: The Real Car Experience is a true-to-life automotive journey featuring the most prestigious cars in the world! The best-selling franchise is back and it's designed to offer an unprecedented level of driving enjoyment whether playing solo or multiplayer. The richest handheld racing simulation this year: 67 licensed cars on 13 tracks including Laguna Seca • A superb collection of cars from over 30 manufacturers: Mercedes-Benz, Ferrari, Dodge, Nissan, Audi, Ford, and more • Test your driving skills by completing 1,400 events, including Classic Races, Duels, Knockout and Overtake. • 28 new challenges each week: improve your driving skills & maybe win a new car!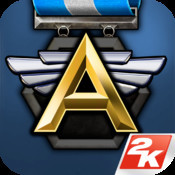 "The linear campaign structure is a bit limited compared to the first game's branching missions, but with both American and Japanese campaigns to play through and over 180 missions Sid Meier's Ace Patrol: Pacific Skies will keep strategy players coming back again and again."

—Digital Spy
This WWII air combat strategy game is a sequel to the well-received Ace Patrol.
From the Publisher: Battle to Rule the Pacific Skies! Take flight over the treacherous Pacific waters where ace pilots redefine historic World War II battles! Skillfully pilot the most iconic American and Japanese fighter planes of the Pacific War while representing the Army or Navy. Upgrade your fighters and promote your leading pilots so they master new skills needed to ambush an enemy VIP, rescue POW pilots or torpedo bomb enemy targets! Can you turn the tide of war? Or will you go down in flames to an enemy ace?
A few to avoid
Thor: The Dark World - The Official Game disappointed critics even more than the official movie did, scoring just 48.
What are you playing?
Have you tried any of the games above? If so, what did you think of them? Are there any other new iPhone or iPad games that deserve a download? Let us know in the comments section below.