New trailers and updates for upcoming films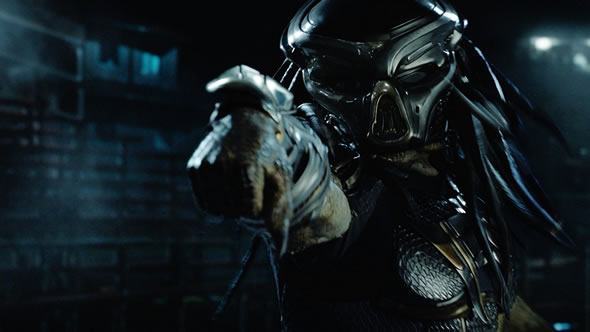 The Predator: The last trailer and the first reviews
The Predator received mixed reviews when it premiered last night in the Midnight Madness section of the Toronto International Film Festival. Writing for The Playlist, Victor Stiff claims it's "insanely violent, packed with off-color joke," and "one of the most enjoyable popcorn flicks hitting multiplexes this fall season." On the other hand, Variety's Dennis Harvey believes it's "silly, borderline senseless, lively, and without any real rooting value at all." Writer-director Shane Black was not at the premiere after responding to reports about a cut scene starring a sex offender he cast in the movie. Here's the final and best trailer for the September 14 release.
Halloween
Jamie Lee Curtis returns as Laurie Strode in this continuation of the Halloween series that began with John Carpenter's 1978 film. Directed by David Gordon Green (Stronger, Pineapple Express) from a script he wrote with Jeff Fradley and Danny McBride, this October 19 release finds Laurie ready to take on a newly escaped Michael Myers. Halloween also stars Will Patton, Judy Greer as Laurie's daughter and Andi Matichak as her granddaughter.
22 July
The latest from director Paul Greengrass is not another Bourne film, but a return to the based-on-a-true-story filmmaking of Bloody Sunday, United 93, Captain Phillips. Early reviews indicate 22 July doesn't quite reach the high standards set by those films, but it is still an impressive and sobering examination of the terrorist attack that took place in Norway on July 22, 2011, killing 77 people. Unlike director Erik Poppe's Norwegian film U-July 22, which premiered to good reviews at the Berlin International Film Festival, and his earlier docudramas, Greengrass tackles the aftermath of the attack, documenting how Norway deals with the terrorist in its courts. Find it on Netflix and in select theaters beginning October 10th.
Wildlife
Actor Paul Dano's directorial debut is an adaptation (co-written with Zoe Kazan) of Richard Ford's novel about the fraying of the marriage of Jerry and Jeanette Brinson (Jake Gyllenhaal and Carey Mulligan) as seen through the eyes of their 14-year-old son (Ed Oxenbould). Coming to select theaters on October 19th, Wildlife earned excellent reviews when it premiered at Sundance, and prognosticators expect Mulligan to be in the running for Best Actress as awards season heats up.
The Favourite
With The Favourite, Yorgos Lanthimos (The Killing of a Sacred Deer, The Lobster) takes on 18th century England with this unique look at Queen Anne's court. Olivia Colman plays the Queen, a frail woman whose close friend Lady Sarah (Rachel Weisz) actually governs the country. When a new servant, Abigail (Emma Stone), charms Sarah, she mentors her, but soon Abigail becomes the Queen's companion as Sarah is consumed by the politics of war. With excellent reviews from its premiere in Venice, the November 23 release is another critical success for Lanthimos, but this one might have a chance to surprise at the box office as well.
The Beach Bum
Written and directed by Harmony Korine (Spring Breakers), The Beach Bum follows Moondog (Matthew McConaughey) as he lives life by his own rules. The March 22, 2019 release also stars Snoop Dog, Zac Efron, Isla Fisher, Stefania LaVie Owen, Jimmy Buffett, Martin Lawrence, and Jonah Hill.
Burning
Burning was a critical favorite at Cannes this year, taking home the FIPRESCI (International Federation of Film Critics) prize for the best film in competition, but it didn't win any main competition awards. Directed by Lee Chang-dong (Poetry), the October 26 release is a loose adaptation of Haruki Murakami's short story "Barn Burning." A mysterious tale of love and class, the film revolves around a love triangle between deliveryman Jongsu (Ah-in Yoo), Haemi (Jong-seo Jun), a local girl he falls for, and Ben (Steven Yeun), the man she brings back home with her after a trip to Africa.
Instant Family
Instant Family stars Rose Byrne and Mark Wahlberg as a couple who decide to start a family through foster care. When they take in a 15-year-old girl (Isabela Moner) and her two siblings, they must learn as quickly as possible how to become parents, and hopefully, a family. Directed by Sean Anders (Daddy's Home and Daddy's Home 2), the November 16 release also features Octavia Spencer, Tig Notaro, and Margo Martindale.
Anna and the Apocalypse
Zombie musical Anna and the Apocalypse stars Ella Hunt as Anna, a teenager in the sleepy town of Little Haven who must fight her way through zombie hordes with her best friend John (Malcolm Cumming) to get to her high school where they hope to be safe. Directed by John McPhail, the November 30 release has good early reviews.
At Eternity's Gate
Artist-filmmaker Julien Schnabel directs Willem Dafoe as Vincent van Gogh in this exploration of the painter's later life. Based on letters with his brother Theo (Rupert Friend), as well as imagined events, At Eternity's Gate is an immersive portrait of a painter by a painter (Schnabel painted some of the canvases in the film). The November 16 release also stars Oscar Isaac as Paul Gaugin and received good reviews at its Venice premiere.
The Oath
Written and directed by star Ike Barinholtz, the October 12 release The Oath is a comedy about surviving Thanksgiving when politics comes up at the dinner table. Chris (Barinholtz) and his wife Kai (Tiffany Haddish) can't believe citizens are being asked to sign a loyalty oath to the President by Thanksgiving. As family (Meredith Hagner, Carrie Brownstein, Nora Dunn, Jon Barinholtz) gathers, the arrival of two federal agents (John Cho and Billy Magnussen) pushes their dinner into chaos.
Assassination Nation
Assassination Nation follows high school senior Lily (Odessa Young) and her best friends as their town, Salem (note the name), comes undone when someone starts posting details from the private lives of half the population. Writer-director Sam Levinson's follow-up to his 2011 Waldo Salt Screenwriting Award winner, Another Happy Day, earned mixed reviews at Sundance, but Neon and the Russo brothers' AGBO bought it for more than $10 million. The September 21 release stars Suki Waterhouse, Hari Nef, Abra, Anika Noni Rose, Bella Thorne, Maude Apatow, Bill Skarsgård, and Joel McHale.
The Nutcracker and the Four Realms
Inspired by E.T.A. Hoffmann's classic tale "The Nutcracker and the Mouse King," The Nutcracker and the Four Realms stars Mackenzie Foy (Interstellar) as Clara, a young girl who unlocks a magical world created by her mother with a special key provided by her godfather Drosselmeyer (Morgan Freeman). The Four Realms of the title are the the Land of Snowflakes, Land of Flowers, Land of Sweets, and a fourth realm ruled by the evil Mother Ginger (Helen Mirren). Keira Knightley stars as the Sugar Plum Fairy, and Misty Copeland plays The Ballerina. Directors Lasse Hallström and Joe Johnston will share credit on the November 2 release after Johnston stepped in to helm extensive reshoots.
1985
In 1985, Adrian (Cory Michael Smith) returns from New York to his hometown in Texas for Christmas during the first wave of the AIDS crisis. While he's there, he struggles to connect wit his religious parents (Virginia Madsen and Michael Chiklis) and a childhood friend (Jamie Chung). Following good reviews from its premiere at SXSW, look for it in select theaters beginning October 26th.
Short takes
Coming to select theaters next Friday with excellent early reviews, Hale County This Morning, This Evening is a portrait of Hale County, Alabama by RaMell Ross.
Rashida Jones and Alan Hicks profile her father, musician-producer Quincy Jones, in the September 21 Netflix release Quincy.
Roger Michell's Tea with the Dames lets viewers spend time with Dame Maggie Smith, Dame Judi Dench, Dame Eileen Atkins, and Dame Joan Plowright. Look for it in select theaters beginning September 12th.
News and notes