Publisher:

Nintendo

Release Date:

Nov 16, 2018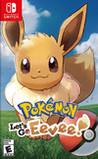 Summary:

Catch Pokémon Like Never Before. The Poké Ball Plus is a Poké Ball-shaped device that can be used to play Pokémon: Let's Go, Pikachu! and Pokémon: Let's Go, Eevee! in place of your Joy-Con. You'll be able to throw Poké Balls in-game with a flick of your wrist! In addition to motion controls,

Catch Pokémon Like Never Before. The Poké Ball Plus is a Poké Ball-shaped device that can be used to play Pokémon: Let's Go, Pikachu! and Pokémon: Let's Go, Eevee! in place of your Joy-Con. You'll be able to throw Poké Balls in-game with a flick of your wrist! In addition to motion controls, the device lights up with a variety of colors, vibrates, and plays sounds. With the Poké Ball Plus, you can also take one of your favorite Pokémon from these games for a stroll as you go about your daily life in the real world. The Poké Ball Plus even works as a Pokémon GO Plus when playing Pokémon GO.

Pikachu or Eevee:
Which Will You Choose?

Pokémon: Let's Go, Pikachu! and Pokémon: Let's Go, Eevee! bring the experience of a classic Pokémon RPG to Nintendo Switch with gameplay that is easily approachable for newcomers to the series, but is also deep enough to keep veteran Trainers on their toes.

The games also have two-player simultaneous play, so you can take the journey with a friend! And there's a deep connection between Pokémon: Let's Go, Pikachu! and Pokémon: Let's Go, Eevee! and Pokémon GO, so fans of the hit mobile game will find even more to enjoy.

…

Expand
Developer:

Game Freak

Genre(s):

Action RPG

,

Role-Playing

,

Trainer

Cheats:

On GameFAQs

Rating:

RP
Please enter your birth date to watch this video:
You are not allowed to view this material at this time.
Pokemon Let's Go, Pikachu! And Let's Go, Eevee! - Gym Leaders, Elite Four And Familiar Faces Official Trailer
Pokemon Let's Go is a superb surprise, a fully-fledged Pokemon RPG with interactivity that brings the series to life in a way that's never been done before.

Pokémon Let's Go, Pikachu! and Let's Go, Eevee! are a clear example that it's possible to reinvent yourself modifying the essence with novelties such as the direct capture of wild Pokémon, even improve it, offering a much more accessible game experience capable of satisfying new and veterans players.

Excited though I am for next year's fully-fledged Gen 7 Pokemon games, which will surely return wild battles and bring a slew of new monsters, Let's Go is a worthwhile adventure in its own right, and in fact I hope the main games benefit from some of innovations in this simpler but more modern experience. The original genius at the core of Pokemon — replacing the spreadsheets and stat charts of the standard RPG with cute creatures you nurture and grow — still shines through here, it's just in a form that anyone will be comfortable playing in 2018.

Pokémon: Let's Go, Pikachu! and Let's Go, Eevee! are beautiful reimaginings of a video game classic, updating a 20-year-old game in ways which make it infinitely more accessible and user-friendly for a modern audience, while keeping the magic first discovered all those years ago.

Pokemon: Let's Go, Eevee! is a simple game with a deep combat system which everyone can enjoy.

Pokémon: Let's Go's nostalgic charm and interactive gameplay will have both newcomers and returning trainers hooked as they explore the beloved Kanto region. Let's Go mashes together these two different styles of Pokémon game into one streamlined format, and despite some slight annoyances, these remakes provide an intimate take on the classic Pokémon journey, especially when played with the Poké Ball Plus accessory. If you're looking for a refreshing take on the Pokémon RPG, then this one may keep you invested until you catch 'em all. It probably won't take long though.

Let's Go, Pikachu! and Let's Go, Eevee! represent a different line in the Pokémon series. Reflecting a more accessible take, these two games make the experience more open to new players, while keeping several nostalgic and legacy factors intact for seasoned veterans. While not all is a resounding success, namely when it comes to its limited online component, uninteresting motion controls and an overall level of challenge that is below expectations, some of the games' new elements are more than likely to bring a fun, enjoyable time to players of all backgrounds.