Network:

FX

Series Premiere Date:

Oct 5, 2011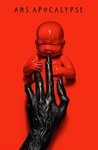 Starring:

Sarah Paulson

,

Evan Peters

,

Alison Pill

Summary:

Lena Dunham, Billy Eichner, Leslie Grossman, Colton Haynes, Cheyenne Jackson, Billie Lourd, Sarah Paulson and Evan Peters are some of the cast in the seventh season of the Ryan Murphy horror anthology series subtitled Cult which opens its first episode on Election Night.

Genre(s):

Horror
Season 7 premiere date:

Sep 5, 2017

Episode Length:

60
Please enter your birth date to watch this video:
You are not allowed to view this material at this time.
Cult is a condemnation of the truly "deplorable" among us as well as a witty skewering of liberal correctness run amok.

This show is trying to do a lot. Some may find that approach excessive and the idea of Grand-Guignol–ing what's happening in our country a little crass, especially since the show takes some pretty pointed jabs at progressives. Others, especially those well-versed in the series' over-the-top sensibility and drily snarky humor, will dig into it all with complete relish ... The whole cast is terrific, but the series is (no surprise) a real showcase for Paulson, who's a bundle of jangled nerves and teary-eyed fear.

The seventh season--subtitled "Cult"--is among the most smartly written and addictive.

You'll have to sit through a few lackluster episodes before American Horror Story: Cult becomes truly enjoyable, but if you're a fan of the show, it'll be worth it. Seeming to have found itself with episode four, it'll certainly be exciting to see if the season can continue its upward trend from here.

It's exhausting to watch Ally put through the wringer and yet also predictable about how she will emerge from the trial.

Every time American Horror Story attempts to imbue real, pressing fear into these statements, in the way that good horror often can--think of this year's Get Out, for example--it also gets ... well, dumb, in a way I'm not certain the show realizes.

Even if you buy into Ally as an ignorant figure from 2016, "AHS" feels dated, and it surely doesn't make for compelling TV. For horror fans uncaring of political relevance or accurate representation, it should be noted that American Horror Story: Cult is also quite boring. ... The politics of fear may work, but the twisted logic in this futile exercise falls apart quickly.
Season 7 is maybe the best season so far for me.
I found it funny, it got lots of humor/irony, twists in the story and is very watchable.Season 7 is maybe the best season so far for me.
I found it funny, it got lots of humor/irony, twists in the story and is very watchable.
Also I liked it's reality and it's setting in the present time. It's a American Horror Story.
Thumbs up for the makers/writers/producers to give a statement and it being shut.

…

Expand

Nothing is more scary than Trump and his psychotic followers. A very timely topic that is sure to upset Trump's army of snowflakes. Great

Nothing is more scary than Trump and his psychotic followers. A very timely topic that is sure to upset Trump's army of snowflakes. Great performances all around. Another solid season.

…

Expand

This seventh season of this esteemed TV show is taking some interesting twists and turns regarding any potenial silck storytelling.

This seventh season of this esteemed TV show is taking some interesting twists and turns regarding any potenial silck storytelling. Nonetheless, I would prefer this TV show would go back to its basic roots of providing smart horror for its fans rather than any political agenda. Yours sincerely, the biggest American Horror Story fan in existence.

…

Expand

This review contains spoilers

, click expand to view

.

This season of AHS is AWFUL!! There is nothing but a bunch of whiny and crying by the female leads without any genuine horror. Gratuitous shock value such as blowing up a guinea pig in a microwave is beyond cliched and pathetic. And the whole concept of the election being a protagonist for the "cult," with all of the political buzz words being hammered into every episode is just bad, hack writing. I have always loved AHS - but maybe it is time to pull the plug on this hot mess.

…

Expand

This is the worst season of American Horror Story. I was hoping this one was going to be good after Roanoke was little more than okay... but

This is the worst season of American Horror Story. I was hoping this one was going to be good after Roanoke was little more than okay... but this...omg completly and totally ridiculous political overtones. Ridiculous plot. Unlikeable characters. The only sexual scenes in the whole series are gay or lesbian. I'm not saying that I have a problem with being gay or being lesbian it's just one example of how completely ridiculously political this season is. So awful... can't we go back to the supernatural horror and leave the writers/ hollywoods political views out of AHS? I seriously that it was satire at first with the complete over reactions to the voting but no, it was for real... and Lena Dunhams playing this Valerie character seriously was so incredibly stomach turning... Just so awful

…

Expand

I was a fan until season 7. Just like the emmy's and NFL, this has fallen to the extreme left perspective. It is packed with biased agendas

I was a fan until season 7. Just like the emmy's and NFL, this has fallen to the extreme left perspective. It is packed with biased agendas distracting from real entertainment. It has fallen off my DVR list.

…

Expand

I absolutely loved the show but everytime any kind of show tries to mix politics with an imaginary plot it becomes ridiculous. It's very sad

I absolutely loved the show but everytime any kind of show tries to mix politics with an imaginary plot it becomes ridiculous. It's very sad that an amazing serie like AHS tries to involve itself with politics just to gain attention after a not-so-good last season

…

Expand